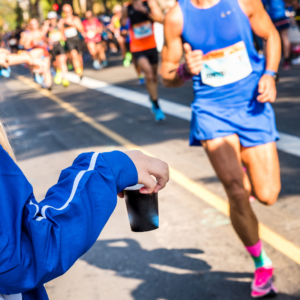 Race Day Hydration and Nutrition Prep for the Endurance Runner
While plenty of seasoned endurance runners know that proper warm-up and cool-down exercises have a protective benefit for their muscles and joints, some forget to focus on the hydration and nutrition parts of the equation regarding endurance running – especially in preparation for race day. But it's important to know that hydration and nutrition also impact muscles. So, focusing on them can also help a runner protect their body against internal and external running forces. Hydration and nutrition have a leading role in muscle strength.
Pre- and Post-Race Hydration
A strong focus on hydration is crucial for any endurance runner. Electrolyte imbalance is real and can rapidly become a medical emergency. The symptoms of electrolyte imbalance can include muscle cramps, confusion, nausea, dizziness, rapid or irregular heartbeat, and more. Paying close attention to hydration and electrolyte replenishment can help runners avoid this potentially disastrous health hazard. However, that being said runners must also be aware of how much they are hydrating. Overhydration may lead to low levels of sodium known as hyponatremia which may lead to its own medical emergencies. Symptoms of hyponatremia include tremors, confusion, headache, nausea, and may lead to respiratory complications.
Pre-Race Hydration
Ideal hydration before a race or marathon should happen about 48 hours before it begins. On race day, drinking two cups of water 1-2 hours before the event starts can help ensure the body absorbs the fluid before the race begins and will help hedge against the fluids lost through sweating during the run.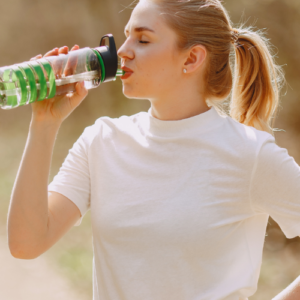 During-Race Hydration
Continuing to replace fluid during a race or marathon is also imperative to help maintain performance. Runners should hydrate with 2-3 cups of fluids that include electrolyte solution every hour in regular intervals which should contain carbohydrate and sodium.
Post-Race Hydration
Replacing the body's fluids and electrolyte stores after sweating through a long marathon is crucial for any endurance runner. Many sports drinks, and powders on the market today claim to replenish electrolytes, and it can be hard to know which are not only effective, but healthy for you. The goal is to boost electrolytes without including too much more of what you don't necessarily need – especially added sugar.
Pre- and Post-Race Nutrition
Pre-Race: A healthy diet for the marathon runner should be a well-balanced diet. A strong focus on whole foods that include fruits, vegetables, lean protein, healthy fats, and carbohydrates will serve a runner well. But especially for endurance runners, the aim should be 60-70% of calories from complex carbohydrates and lean/healthy fats accounting for 15-20%. However, the right "mix" of these factors can vary from person to person. Well before race day, runners should put their nutritional needs to the test – trying out which combination of foods feels like the best fuel before a race. Listen to your body and let success always be your guide.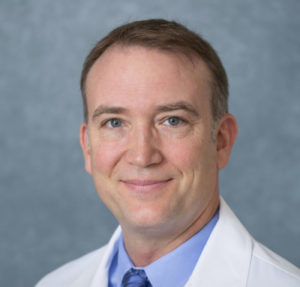 Post-Race: Vigorous exercise triggers the breakdown of muscle protein. So, amino acids and proteins are integral for the endurance runner's post-race muscle recovery. High-quality protein sources like milk, eggs, soy, wheat, and peas can help runners restore and recover. As for the fat part of the macronutrient equation, runners should focus intensely on food quality. Salmon is an excellent example of a post-workout recovery food high in protein and heart-healthy fats like omega-3s. As a bonus, these heart-healthy fats also decrease the muscle inflammation that causes soreness and fatigue after a race.
As a reminder, a dehydrated or undernourished runner can put themselves at significant risk for bodily injury – whether it be from a fall, muscle atrophy, or other calamity – we are what we eat and drink. A preemptive focus on hydration and nutrition is another way to protect yourself and offers you the best chances to enjoy the many benefits of endurance running for years to come.
Sources:
https://www.ucsfhealth.org/education/running-a-marathon-race-day-success#:~:text=To%20hydrate%20before%20a%20marathon,been%20absorbed%20into%20your%20system.
https://www.hopkinsmedicine.org/health/wellness-and-prevention/runners-diet