For over 5 decades, Angelenos have trusted us with their orthopaedic treatment and care.
Cedars-Sinai Kerlan-Jobe Institute physicians have pioneered advanced surgical methods and procedures to enhance treatment, rehabilitation, and recovery and for over more than half a century, the institute has become an internationally recognized center for research and education in sports medicine. We offer patients exceptional care, expertise, and advanced medical technology at multiple locations throughout Los Angeles and Orange Counties.
Although best recognized for sports medicine, institute physicians treat the entire spectrum of muskuloskeletal injuries, so that if a patient, regardless of age or occupation, has an orthopaedic condition or injury, ours has been the preeminent orthopaedic care provider to seek out on the west coast. The institute has a longstanding commitment to strengthening the greater Los Angeles community through wide-ranging programs that improve the health of its most vulnerable residents.
You can trust and access the orthopaedic care that the pros continue to choose. Institute physicians are the team physicians and specialists for the Los Angeles Clippers, Los Angeles Rams, Los Angeles Angels, Anaheim Ducks, Los Angeles Galaxy, Angel City FC as well as national and international cycling, golf and endurance events. In addition, numerous other professional and recreational athletes, sports teams, and collegiate athletic programs in the Los Angeles region and nationwide rely on institute physicians for treatment and care.
History
At Cedars-Sinai Kerlan-Jobe Institute, our heritage helps to inform our expertise and innovation. Our shared history is the foundation of who we are today. Here's a look at some of the key moments that define our institute.
Pioneers
One of the founders of Kerlan-Jobe was the late Robert K. Kerlan, MD, who began his career in sports medicine at a time when there was no such recognized specialty in the medical field. An avid sports fan, Kerlan was selected as team physician for the MLB Dodgers in 1958, upon the then Brooklyn Dodgers move to Los Angeles.
Before long, Kerlan branched out and became the orthopaedic consultant to professional hockey, basketball, and football teams in Southern California. In 1964, after serving as medical staff sergeant in WWII with the US Army, Dr. Frank Jobe returned home, received his Medical Doctorate, and joined his friend by offering to help and lighten Kerlan's caseload. The following year, they opened their clinic under the Southwestern Orthopaedic Medical Group name in Los Angeles and two decades later became the Kerlan-Jobe Orthopaedic Clinic.
Educators
In 1973, Kerlan-Jobe established an orthopaedic and sports medicine fellowship program that now boasts as one of the largest and longest-running and most respected in the nation. In 1991, Kerlan Jobe Orthopaedic Clinic becomes first sports medicine fellowship in the country to receive accreditation from ACGME. By 2007, KJOC's future partner, the Santa Monica Orthopedic Group fellowship program receives accreditation from ACGME. Each year this program provides intensive training and performs critical research in multi-specialty orthopaedics and sports medicine for the next generation of physicians in sports medicine and muskoskeletal treatments and surgery. To date, the Kerlan-Jobe Orthopaedic Fellowship has expanded to offer four distinct programs and has graduated nearly 400 alumni Fellows over the years and now practicing all over the United States.
Innovators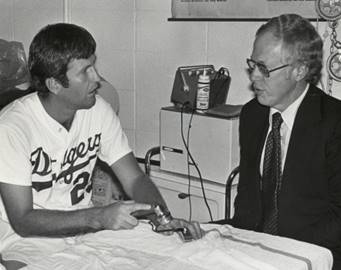 In 1974, Dodgers' pitcher Tommy John severely damages a ligament in his arm, potentially ending his career. Drawing on his knowledge treating Polio patients, Dr. Jobe proposes a radical new procedure. John agrees, and Dr. Jobe performs the world's first Ulnar Collateral Ligament Reconstruction surgery. The procedure is a success. Tommy John goes on to pitch in the Major Leagues for 15 more years, and procedure is now commonly known as "Tommy John Surgery," and regularly performed on MLB players. In 2013, Dr. Jobe was honored and recognized by National Baseball Hall of Fame in Cooperstown, NY for his innovative surgical procedure that has extended the career of over 300 major league pitchers and counting.
Experts
By 1985, Dr. Kerlan and Dr. Jobe were then team physicians for the LA Dodgers, the LA Lakers, the LA Angels of Anaheim, the LA Rams, the Hollywood Park jockeys and the athletes of the PGA Tour and Senior PGA Tour. Professional teams throughout the region continually placed their trust in the practice, which changed its name to the Kerlan-Jobe Orthopaedic Clinic.
In 1988, Santa Monica Orthopaedic & Sports Medicine Group opens its doors. Over the next decade, the practice launches partnerships with US Soccer, the LA Galaxy, the Amgen Tour of California, and in 2007 receives a designation as a FIFA Medical Centre of Excellence.
Today, Cedars Sinai Kerlan Jobe physicians continue to be the preferred specialists maintaining a large roster of professional men and women sports franchises in the Los Angeles region.
Partners
In 2013, Kerlan-Jobe Orthopaedic Clinic and Santa Monica Orthopaedic & Sports Medicine Group partner with renowned Cedars-Sinai Medical Center to form the Cedars-Sinai Kerlan-Jobe Institute, the sports division of the Cedars-Sinai Department of Orthopaedics and a world-leader in the diagnosis, treatment and prevention of sports-related injuries and illnesses.
Under the Cedars-Sinai partnership, the Institute expands to a 40-plus orthopaedic specialist group across nine clinic locations and two ambulatory surgery centers from the west valley to Orange County.
As the Sports Division of Cedars-Sinai orthopaedics, together we are ranked #1 in LA, #1 in California and #3 in the nation by U.S. News & World Report.
Our story will continue to evolve with science, technology and with the ever-changing culture of sport.