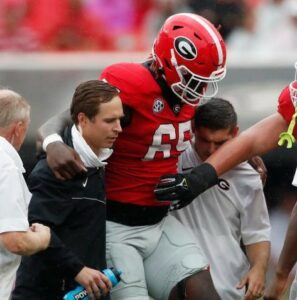 Dr. Jung opines on the UofG star's injury and prognosis for safe return to play for the Bulldogs' Offensive Tackle.
Article Links: How long could Georgia football offensive tackle Amarius Mims be out? We asked a surgeon (yahoo.com)
Georgia football starting offensive right tackle Amarius Mims' ankle injury sustained in the SEC opener against South Carolina Saturday will keep him out of the lineup for a while.
Just how long the Bulldogs will be missing a player considered a top NFL prospect at the position wasn't specified Monday when coach Kirby Smart said that Mims will undergo TightRope surgery.
For an answer for the recovery time for that, we turned to Dr. Kenneth Jung, an orthopedic foot and ankle surgeon at Cedars-Sinai Kerlan-Jobe Institute in Los Angeles who is a consultant with the NFL's Rams.
Jung said TightRope surgery performed for high ankle sprains use sutures instead of screws across the tibia and fibia in the lower leg to allow them to heal in the proper position.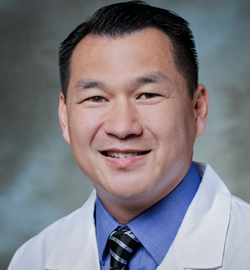 It can take four to 12 weeks to recover, Jung said. That timeline would mean the earliest return for Mims who injured his left ankle would be Oct. 28 against Florida after an open week.
"There are high ankle sprains but sometimes they do not occur in isolation, there may be other ligament injuries," Jung said Tuesday. "So that can contribute to the different timeframes of recovery as well. Sometimes there's fractures as well, but if it's a pure isolated high ankle sprain and only a TightRope surgery is being performed then you would expect probably a shorter side of the recovery."
Read full article.  How long could Georgia football offensive tackle Amarius Mims be out? We asked a surgeon (yahoo.com)