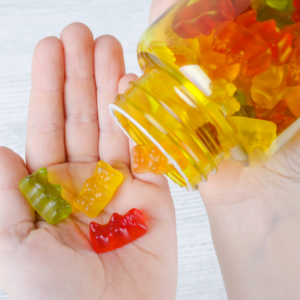 Dr. Zaslow opines as to when to considering introducing multi-vitamins for your child. 
Article Link: Do kids really need vitamins? Here's what parents should know. (yahoo.com)
For decades, parents have urged kids to take a daily multivitamin — Flintstones Chewable, anyone? — to help fill nutritional gaps in their diet. Data shows that more than a third of kids in the U.S. take dietary supplements. While the American Academy of Pediatrics (AAP) doesn't recommend a daily multivitamin for children who eat a well-balanced diet, kids as a whole are notoriously picky eaters.
That raises a lot of questions for parents: Which kids can benefit from a vitamin? Do kids even need vitamins?
AAP doesn't recommend that kids who eat a well-balanced diet take a multivitamin, but pediatricians say they can be helpful for some children. "Specific populations may benefit from taking multivitamins, including those with restrictive diets — vegans, vegetarians, lactose-intolerant, gluten-free — very picky eaters, [those with] poor appetites and those with specific medical conditions," Dr. Tracy Zaslow, a pediatrician at Cedars-Sinai Kerlan-Jobe Institute in Los Angeles, tells Yahoo Life. "If your child falls into any of these categories, consider discussing the role of a multivitamin with their pediatrician, who can then direct and oversee a supplementation plan tailored to your child's specific needs."