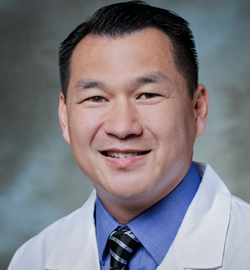 The Athletic Interviews Dr. Kenneth Jung About Indianapolis Colts Andrew Luck's Calf Strain
 Article Link: https://theathletic.com/1129551/2019/08/10/everything-we-know-about-andrew-luck-and-the-calf-strain-that-wont-go-away/ (Username & Password Required/Pasted Article below)
Twitter Link:

The timeline, key quotes, opinions from an expert (can calf strains last this long?) and a little perspective on the injury that's become the major storyline at Colts camp: https://theathletic.com/1129551/2019/08/10/everything-we-know-about-andrew-luck-and-the-calf-strain-that-wont-go-away/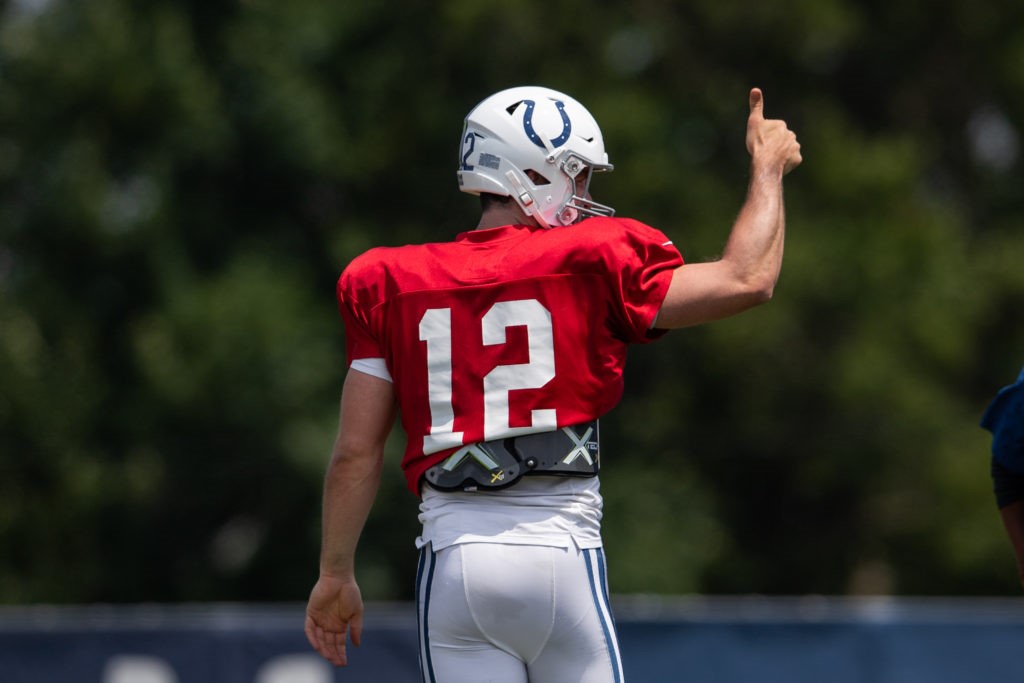 Everything we know about Andrew Luck and the calf strain that won't go away
By Zak Keefer Aug 10, 2019
 17 
About halfway through Saturday's practice, Andrew Luck, sweaty from what looked like an early morning rehab session, strolled out of the wooded area next to the Colts' practice fields in Westfield and made his way toward the field. While Jacoby Brissett ran the first-team offense, hitting receivers Deon Cain and Reece Fountain repeatedly on deep shots down the field, Luck mingled with Eric Ebron, chatted with Nick Sirianni and caught up with Frank Reich.
Whether it matters or not, this was not something we saw in 2017.
Amid the shoulder saga, Luck was a ghost. Weeks would pass without his ever showing up for a training camp practice. Later, we learned why: The shoulder wasn't cooperating, rehab wasn't progressing, and his season was slipping away.
This time around, on the surface at least, Luck appears far more connected with the team than he was two years ago. Remember his quote from July 30, the day he revealed his left calf wasn't progressing and he wanted to let it completely heal before returning to practice: "I don't feel quite alone like I did at times in 2016, 2017."
That tells you something. Scenes like the one Saturday morning do, too. At this point, Luck looks much more like a quarterback ready to return to the practice field than one expecting to miss regular-season snaps.
Yet encouraging as the optics are, the facts are the facts: Saturday marked the eighth consecutive training camp practice Luck has missed, and by the time Monday's workout is over, it'll be 10.
Couple that with a concerning revelation from Reich on Friday regarding the calf strain the Colts' $140 million quarterback simply can't shake — "There is still a degree of pain he is not comfortable with," the coach said of an injury that was first disclosed in early May — and we have, without question, the most pressing storyline surrounding this team 29 days ahead of the regular-season opener.
To be clear, the team still expects Luck to start Sept. 8 against the Chargers in Los Angeles.
The quarterback expects the same thing.
But this is an injury that has lingered for more than three months and involves a player whose body has been relentlessly battered throughout his career. Consider the toll on Luck just seven years in: torn cartilage in two ribs, a partially torn abdominal muscle, a lacerated kidney, a bum ankle, an injured thumb, at least one documented concussion, the torn labrum in his throwing shoulder and now a calf strain that's lasted the entire summer.
When it comes to Luck and injuries, it's always going to be different. No matter how much he detests this reality — that he is not just any other player and never will be — it's not changing.
There's still time, but the longer Luck, who turns 30 next month, goes without returning to practice, the more the apprehension builds within a fan base that's lived through this before. Here's everything we know about the calf injury that won't go away:
The timeline
May 21
After participating in the Colts' initial offseason workouts, Luck is held out of the second phase of OTAs with what Reich describes at the time as "just a calf strain." The team takes the precautionary approach but expects him on the field for minicamp during the second week of June.
"Calf strains, or those kinds of things, you just want to let those things go or they'll nag you for a while," said Reich, who notes that he dealt with the same injury as a player.
Reich added he felt Luck "could go out and play" if the team had a game that Sunday.
"I don't anticipate him being out the whole (spring) camp," Reich said.
June 11
Only that's exactly what happens. Luck is held out of the team's mandatory minicamp but pledges in mid-June that "we're on a very, very good page and I'll be ready for training camp."
The strain has now kept him off the practice field for a month, but with a six-week window before training camp, the concern level is low. Internally, the Colts are confident Luck will be full-go come late July.
"Within the calf strain injury, I'd say it's on the longer side," Reich acknowledges. "I don't think it's out of the range of a calf strain, but it's definitely on the longer side. We're not concerned."
July 25
Luck practices to begin training camp but in a limited capacity. The team, aiming to avoid overworking the calf too quickly and risking a setback, starts him in individual drills and keeps him out of team sessions. Within the first week, Luck moves into 7-on-7 work. He looks sharp — the shoulder is good — and goes 8-for-9 one afternoon, dissecting the defense with ease.
But he never sees 11-on-11.
During his third practice, on July 29, Luck is clearly out of sync, and far more inaccurate than normal. After several misses, he restarts his throwing motion, visibly frustrated. The calf isn't right, and the pain has spread down into his ankle.
"I (felt) like something is going to yank, something is going to pull, trying to change direction aggressively," he said a day later.
Before the next practice, he huddles with Reich and tells him he wants to take a step back and give the calf more time. Reich agrees.
July 29
Heeding the hard lessons he learned during the shoulder nightmare, Luck sides with caution, refusing to push the muscle through the pain. That's what he did in the late summer and early fall of 2017, hoping his surgically repaired shoulder would miraculously return to form and he'd have a chance to save the Colts' sinking season. But the pain stayed. Throwing through it made the injury worse.
After that, Luck vowed to himself that if he ever faced another serious injury, he'd listen to his body. He wouldn't push it, because he knows what happens when you do.
With the calf, he's willing to wait. One of the words he's used over and over to describe the situation: resolve.
"That's why I'm doing this," he explained. "This is not a 'We need to maintain this. This is going to be around.' That's not my mindset. I'm working on resolving this issue."
This goes back to 2016, the year Luck started 15 games — sitting out one because of a concussion — but missed gobs of practice time, essentially living in the training room. Having to maintain a lingering issue, and manage consistent pain, wore on him. For the first time in his life, football wasn't fun.
He never wants to be in that spot again, not if he can help it.
After X-rays and multiple MRIs revealed no tear in the calf this summer, per Luck, and no extra risk on his Achilles tendon, surgery was ruled out. Luck isn't practicing, but he is in the midst of a rigorous rehab plan that focuses on building strength back up in the calf. He's still taking every first-team rep during the team's daily walkthroughs, as many as 60 a day, and attending film sessions.
Most telling, though, is Luck's intent: He wants this issue dead and buried by Sept. 8.
"I could not live with myself if we get to a point in the season and say, 'Hey, I could've done this to take care of this issue, but I didn't because of X, Y, Z, whatever that is,'" he said. "I'm not going to allow that to happen. It's something, again — 2016. I still have some emotional scars from that and that lives with me still, but I'm trying to use it in a positive way certainly for myself."
Aug. 10
"He is continuing to progress with his strength, which is awesome," Reich says a day after the team's first preseason game. "There a degree of pain that he is not comfortable with, and obviously we are not comfortable with putting him out there."
Still not medically cleared to practice, Luck is, according to the coach, increasing the strength in his calf during his rehab sessions and making positive steps toward a return. The pain is "more in the calf," Reich notes, as opposed to the ankle.
The concern level for the head coach? Surprisingly minimal. Put simply, Reich just rolls with what his quarterback tells him. When it comes to injuries, he trusts his players and leans on the medical staff. He gave T.Y. Hilton the leeway late last season to stay off the practice field for what amounted to most of the last six weeks of the season; Hilton was extraordinary down the stretch despite two separate ankle sprains.
With Luck, it's no different, especially at this early juncture in the season. The QB is "driving the train," the coach has said, and the team will not, under any circumstance, rush him back to the practice field until this calf is completely healed and Luck gives the OK. There isn't a pressing need for Luck to suit up in the preseason. It's always been about Sept. 8.
The plan all along, even before Luck aggravated the muscle in training camp, was limited work in the preseason. Reich envisioned his starter getting only 15 to 20 snaps across the team's four exhibition games, two of which he wasn't likely to play anyway. Reich stressed Saturday that those snaps won't make a huge difference for a veteran QB like Luck, and when he does return to the practice field, he'll catch up quicker than most.
"This isn't the average physical human being," Reich said. "This guy is freakish in his abilities, physically and mentally, (and) when he gets back, he's naturally gonna progress faster because of his gifts."
What an expert is saying
Dr. Ken Jung, a foot and ankle surgeon at Cedars-Sinai Kerlan-Jobe Institute in Los Angeles, has not treated Luck's calf but knows the injury well. As a foot and ankle consultant for the Los Angeles Rams, he's worked with scores of NFL players recovering from the injury.
For starters, he says, a calf strain that lingers for multiple months isn't abnormal. Since Luck indicated there was no full tear, it's likely he's dealing with a Grade 2 strain, where partially torn fibers in the calf muscle heal at their own pace. It's entirely possible Luck aggravated those fibers during the early days of training camp, and since strains usually heal with some amount of scar tissue, the pain returned.
Scar tissue, Jung explained, "isn't as pliable or flexible" as regular muscle tissue, and restretching it before it's fully healed can lead to a setback.
"During rehab, you're trying to get those muscle fibers to heal as organized or as similar to how they were before," Jung said. "You're stretching, exercising and lightly loading the muscle to see how it responds. If you injure it, you take another step back."
That's very likely where Luck is with his injury. Not restarting his rehab, but instead resetting, giving the muscle time to fully heal before he pushes it further.
"If it did take a step back, I'm sure the team is going to be cautious," Jung said. "You don't want it to flare up again or have it jeopardize his season. You don't want to start, stop, start, stop."
The bottom line
It's still Aug. 10. If Luck returns to the practice field next week, he'll still have three full weeks to prepare for the Sept. 8 opener. That'll likely include climbing the same steps outlined at the beginning of camp: individual drills at first, then 7-on-7 work, then, finally, full team activity. As Reich noted, for a veteran quarterback like Luck, that's more than enough time.
He won't be in peak form, but the most important thing here is Luck returns to the field without pain.
If he isn't practicing next week, or the following week, then all bets are off, and the Colts will be very thankful they resisted those trade offers for Jacoby Brissett last offseason.
(Photo: Zach Bolinger / Getty Images)