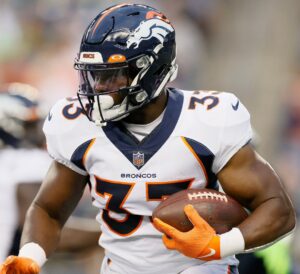 Dr. Soppe weighs in on the type of injury the Broncos' running back is returning from.
Article Link: Denver Broncos roster review: Running back Javonte Williams – Mile High Report
Heading into the 2022 season, the expectations were high for Denver Broncos running back Javonte Williams. He was coming off an impressive rookie season and was expected to have a breakout season, especially with quarterback Russell Wilson joining the team. Unfortunately, that did not happen because of the offensive struggles the team had and the fact that Williams suffered a season-ending knee injury during their week four defeat to the Las Vegas Raiders.
According to reports, Williams tore his anterior cruciate ligament (ACL), lateral collateral ligament (LCL), and posterolateral corner, which is a worst-case injury for any NFL running back. According to Dr. Clint Soppe, a surgeon with the Cedars Sinai Kerlan-Jobe Institute in Los Angeles and an orthopedic consultant for MLS' LA Galaxy, Javonte's injury was "definitely more severe" than your typical ACL injury.
"When you have a posterolateral corner, that includes the LCL, but usually there's some other structures in that area of the knee that are torn as well. Usually, there is a little tendon over there called the popliteus, as well as another small ligament that's involved. It usually requires what we call surgical repair, where you can stitch those tissues and repair them back to the bone, or what we call a reconstruction, where you can't repair it, so you've got to reconstruct those ligaments with some kind of graft tissue; usually, tissue from a cadaver. That's what we call an allograft."