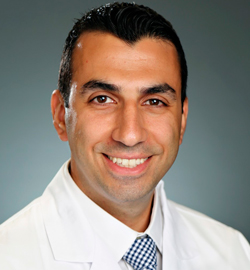 The Athletic Quotes Dr. Danan when asked to weigh in on recent injury to Chargers' QB, Justin Herbert
Article Link : The 'good news' on Justin Herbert and medical insight on Chargers QB's injury – The Athletic
From The Athletic's Daniel Popper…. Dr. Ilan Danan, a pain management specialist at the Cedars-Sinai Kerlan-Jobe Institute, to get a little more context on what exactly Herbert is facing with this injury. Danan consults for several pro sports teams in Southern California, including the Angels, Kings, Galaxy and Ducks.
A few noteworthy nuggets …
• The rib cartilage connects the rib bones to the sternum. Danan said a fracture to the rib cartilage "can be just as painful, if not at times even more painful" than a rib bone fracture. Cartilage gets less blood flow than bone, Danan said, and as such the healing can usually take longer for cartilage than bones.
• Danan said that from a management perspective, the strategies are similar for dealing with a rib cartilage fracture and a rib bone fracture — "appropriate rest, ice, anti-inflammatories, avoidance to direct injury, if at all possible." He added that "the primary focus is entirely on pain management" with a rib cartilage fracture.
• Danan said there is "certainly risk" in potentially making this injury worse if Herbert was to return too early. That could lead to "more prolonged" pain as a result, according to Danan.
• Overall, Danan said pain management is a "vital key" to determining if Herbert would be safe to return, so that aligns with Staley's comments on comfort. Danan said patients are not typically pain-free after an injury like this until "weeks." But it all depends on how the Chargers "determine the extent of his pain and whether he functionally feels as though he can do his job at a high level."
• Danan said the possibility of a punctured lung — or pneumothorax — is "less likely" with a rib cartilage fracture as opposed to a bone fracture, unless there is some sort of bone displacement. Based on Staley's comments, it sounds like Herbert avoided any damage to his rib bones. Hence the reports of "good news."