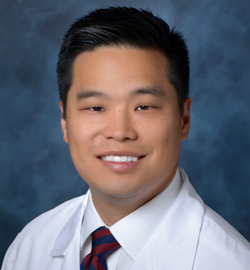 July 6, 2020
Understanding Minimally Invasive Shoulder Joint Replacement Surgery
By: Brian Lee, M.D.
If you've heard of shoulder joint replacement surgery, it's likely because you or someone you know has undergone it. Though not as widely prevalent as hip or knee joint replacement, shoulder replacement surgery is indeed an effective treatment option for people suffering from the debilitating effects of shoulder conditions who haven't achieved adequate relief with non-invasive treatment options or have failed other surgical treatments. The even better news is that modern advances in medicine and surgical training have paved the way for the increasing use of minimally invasive techniques. This approach can benefit patients in both reducing the risk of complications during and after surgery and aiding in a speedier and less uncomfortable recovery than traditional surgery.
To best understand how minimally invasive shoulder surgery works, a bit of an anatomy lesson is needed. Like the knee and hip joints, the shoulder is also a "ball and socket" joint. This joint is responsible for your ability to move your arm and to rotate it in a circle, forward, and back. With muscles, tendons, and cartilage surrounding this joint's bone surfaces, the shoulder is a powerhouse of stability and mobility.
Unfortunately, acute injury or degenerative damage to the shoulder joint can occur. When it does, and depending on the severity of the issue, a variety of conservative measures are traditionally employed to help relieve shoulder pain and to promote mobility. These may include medication, physical therapy, and lifestyle modifications. But when conventional methods fail to provide adequate relief or range of motion or the injury is too severe for conservative ways to be effective, surgery may be in order.
When many people think of shoulder replacement, they picture large incisions, a long surgery time, and an extended, painful recovery period. In fact, many patients can have shoulder replacement with a single small incision (~4-5 cm), a surgery time under one and a half hour, and find the recovery after shoulder replacement easier than some arthroscopic procedures. What often dictates the approach a surgeon selects is the type and severity of the shoulder injury and the patient's unique circumstances. With advances in surgical techniques and technology, patients are having less bone and soft tissue resected and maintaining more of their native anatomy in hopes of preserving natural function.
Minimally invasive shoulder surgery is performed under general anesthesia in an operating room. The patient is placed in a "beach chair" position, with the arm to be operated on in place with a "positioner." A small incision is made in the skin. During the operation, scar tissue is released, damaged bone or tissue is removed and replaced with component material, adequately sized to fit the patient's shoulder joint specifications. This procedure typically takes under two hours to perform, with a several hour recovery period post-surgery to recover from the effects of anesthesia and monitor for any possible complications from surgery.
Once home from surgery, patients can expect to wear their operated arm in a sling for 2-6 weeks (depending on the type of shoulder replacement) while the shoulder heals. At home, care also includes rest, a regimen of medication to help control pain, as well as physical therapy and at-home exercises to aid in restoring function and mobility to the shoulder joint.
Are you battling shoulder issues due to arthritis, injury, or another condition? Have you been unable to adequately manage the problem with conservative treatment options or physical therapy or still having pain/dysfunction despite surgical treatment? It may be time for a discussion with your doctor about a referral to an orthopedic surgeon who specializes in conditions affecting the shoulder. As is the case with any surgical procedure, there are some risks to shoulder surgery that should be discussed with a qualified and knowledgeable surgeon. These risks are lower when performed by a specialist. For many people, shoulder replacement surgery can be the gift that gets them back to living the healthy, active lives they love.
Sources:
https://orthoinfo.aaos.org/en/treatment/shoulder-joint-replacement/
https://www.lashouldersurgery.com/minimally-invasive-shoulder-joint-replacement-surgeon-los-angeles-ca.html