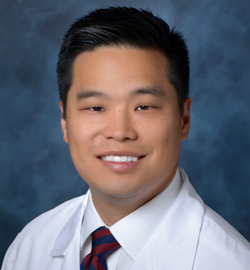 The Athletic Interviews Dr. Brian Lee About Jacksonville Jaguars QB Nick Foles' Broken Clavicle
Article Link: https://theathletic.com/1194004/2019/09/08/nick-foles-injury-puts-damper-on-jaguars-opening-loss-but-there-was-a-lot-that-went-wrong/ (Subscription-based/pasted article below)
Nick Foles injury puts damper on Jaguars' opening loss, but there was a lot that went wrong
By Phillip Heilman Sep 8, 2019 
JACKSONVILLE, Fla. — Only hours later was quarterback Nick Foles able to finally stop and appreciate his first Jaguars touchdown pass.
By then, the X-rays had been taken. A sling had been fitted. And surgery to repair his broken left clavicle had been scheduled for Monday.
When he had a moment, Foles got to see his wonderful 35-yard strike to receiver DJ Chark, a play Jaguars fans — starving for so long to watch solid quarterback play — could only wish for in recent years.
"DJ did a nice job on the catch and made me look good," Foles would say.
The buzz lasted less than a television timeout.
While throwing the pass, Foles was hit by Kansas City defensive tackle Chris Jones. The impact into the turf ended his day, his month and possibly his first half of the season.
As Foles headed toward the locker room, the Jaguars' defense was exposed by Chiefs quarterback Patrick Mahomes (378 yards and three touchdowns), middle linebacker Myles Jack was ejected for throwing a punch and another anticipated season opener turned into another Week 1 dud (a 40-26 loss).
Foles' first touchdown pass for the Jaguars will be his last for an indefinite period.
"He's a guy the organization has been looking for and went out and found him," said right guard A.J. Cann, who was engaged with Jones on the play Foles was injured. "For him to come in and have that happen, it shocks us. But that kind of thing happens in this league. You've got to be able to sit back, take a deep breath and move forward."
Before moving forward, the Jaguars have to look back at the Chiefs game and realize that while Foles' injury was the worst development, it was far from the only concerning one.
It was a complete debacle, maybe the worst-ever debut for a franchise that desperately wanted Week 1 success to serve as the beginning of a cleansing of its memories from 2018.
Instead, the Jaguars now head into a stretch of two games (at Houston and vs. Tennessee) in five days with a rookie quarterback (Gardner Minshew), wondering about left tackle Cam Robinson's status (he was inactive for the opener with a knee injury) and with serious concerns about a defense that talks a better game than it plays.
Foles is the main headline, but a thorough surveying of the wreckage is required.
• The ink on his lucrative four-year contract extension barely dry, Jack was ineffective when asked to cover Chiefs tight end Travis Kelce (three catches for 88 yards) — and then came the ejection.
• Out to prove they are still an elite unit, the Jaguars' defense allowed the Chiefs to score on their first seven possessions. Kansas City's first — and only — punt came midway through the fourth quarter. Cornerback Jalen Ramsey was not locked in, and strong safety Ronnie Harrison was out of control.
• Led by Jack's lack of composure, the Jaguars looked undisciplined at the wrong times (10 penalties) and inexperienced at the wrong positions. They played with selfishness that supposedly had been left behind with last year's 5-11 record.
• It's worth mentioning Chiefs receiver Sammy Watkins for his sheer awesomeness. Watkins had a fantasy football owner's dream performance: nine catches for 198 yards and three touchdowns.
Still, for a fleeting moment, 2019 Jaguars Offensive Football looked much better than 2018 Jaguars Offensive Football. Thanks to Foles.
Down 10-0 on Jacksonville's second possession, Foles looked off pressure in his face to convert a third-and-18 pass to receiver Chris Conley. Later in the drive, he connected with Chark down the right sideline for the touchdown. Jones beat Cann and drove Foles into the turf left shoulder first.
As Chark celebrated, Foles lay in pain knowing something was wrong.
It was his 10th and final play of the game.
"All I saw was two red jerseys in my face, and I remember hitting the ground on the left side and feeling a crack," Foles said.
Dealing with setbacks is nothing new for Foles, who took a long and winding path before signing an $88 million contract with the Jaguars in March. As Philadelphia's unquestioned starter in 2014, Foles missed the final eight games with a fractured clavicle. In fact, he has never started more than 11 games or played in more than 13 in a single season.
Foles said his latest injury was worse than the one he dealt with in 2014, but neither he nor coach Doug Marrone offered an immediate timeframe for his return.
That leaves the Jaguars to decide whether Foles should be placed on injured reserve to create an extra roster spot or keep him on the 53-man squad and hope for a quicker return.
If Foles is placed on IR prior to next Sunday's game at Houston, he could return to practice following the Cincinnati game on Oct. 20 and could return to play at Indianapolis on Nov. 17.
What will Foles be looking at between now and whenever he returns?
"Generally for active people like Nick, we're looking to realign the fracture and then stabilize it," Brian Lee, an orthopedic surgeon at Cedars-Sinai Kerlan-Jobe Institute in Los Angeles, told The Athletic in a phone interview. "That can be done a number of ways, but generally it's done with a plate and screws. You get a titanium plate and it screws into the bone on both sides to make the position relative to the plate."
Lee estimated Foles could return to play in two or three months.
"Physical therapy to start regaining and maintaining the motion starts usually in a week or two," Lee said. "We generally will wait 6-8 weeks to start strengthening the shoulder. At that point, you have enough healing where it can maintain against the force of carrying weight."
Nick Foles (7) waits for a first-quarter snap against the Kansas City Chiefs. (Douglas DeFelice / USA Today)
Likely to carry the team forward in the short term is Minshew, who completed his first 13 passes in relief of Foles. Minshew finished 22 of 25 for 275 yards with two touchdowns and one interception, showing vast improvement from the preseason when he failed to produce a touchdown drive in 30 possessions.
It was reasonable to expect an improvement from Minshew when he got the chance to play behind a better offensive line and with more playmakers around him. But it would have been impossible to predict he would set the franchise's single-game completion percentage (88.0) mark among passers with at least 25 attempts.
Likewise, it's unfair to believe Minshew will continue to direct the offense as efficiently as when he produced field goals on each of his first two drives and touchdowns on two of his final three.
Unlike the Chiefs, opponents will now watch game tape and scheme specifically for Minshew's limitations. His first test comes against the Texans followed by a quick turnaround when the Jaguars host the Titans for a Thursday night game in Week 3.
All along, those games felt more important than beating Kansas City. Houston is integrating several new players following a series of preseason trades, and Tennessee will be without left tackle Taylor Lewan, who is serving a four-game suspension.
With Foles on the field, it felt like a prime chance for the Jaguars to jump on two of the teams they are battling in the AFC South. Without him, survival feels like the key entering every game, though Marrone would never admit that.
"I think that we will win games," Marrone said. "But make no mistake, we do have work ahead of us, but I feel good about where this team is."
In particular, the Jaguars feel good about Minshew. If they acquire a veteran, it will likely be in a backup role. It's possible they would consider signing Alex McGough off Houston's practice squad after he went through the preseason with them.
"My plan is to prove that I am the best I can be for this team every day at practice and every snap I get in a game," Minshew said. "That's my job. It's not to figure out if we need to sign a new quarterback. My job is to go out there and be the best I can be for our team."
Minshew is sure to be helped by Foles. The two crossed paths near the team's locker room after Foles finished his media duties and Minshew headed toward his.
In a brief interaction, the two quarterbacks embraced, and Foles asked about Minshew's family, offered a bit of encouragement and teased him about not wearing his trademark bandana in front of the cameras.
"Gardner did a great job stepping up," Foles said. "That's not easy being a rookie against a talented team like the Chiefs. He did a really nice job of moving the chains, throwing a couple of touchdowns and being really efficient, so I was really proud of him for stepping up. I'm going to be here to help him in any way possible."
That's not the role Foles envisioned filling. But it's all he can do for now.
And all the Jaguars can do is hope the rest of the roster is good enough that games still matter by the time Foles returns.
"Sometimes things don't happen like we expect them to, but we just have to have faith that it's for a reason," Foles said. "I'm still grateful I get to be a part of this team."