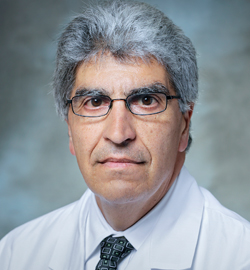 Cedars-Sinai Kerlan-Jobe Institute Website Blog
December 2, 2019
Ski Injury Prevention
Skiing and snowboarding injuries are among the most often treated in emergency rooms during the winter months. Some of the most common ski-related injuries include sprains, muscle strains, bruises, bone fractures, shoulder dislocations, knee (ACL) tears, and frostbite. However, there are plenty of things you can do to prevent severe skiing or snowboarding injuries. As the saying goes, 'an ounce of prevention is worth a pound of cure.'
Equip and Dress Appropriately
Before you hit the slopes, perform a safety check on all of your equipment. These items include skis, bindings, boots, poles, and helmets. If in doubt, have your equipment inspected and adjusted by a professional. Most ski shops can tune your skis and survey boots, poles, and helmets for any imperfections or stress fractures that might indicate they need replacing before you can safely hit the slopes.
Temperatures and precipitation generally fluctuate throughout the day on a mountain. You should wear layers of weather-resistant clothing for warmth and protection from the elements. Tinted goggles are also great for dealing with glare from the snow.
Ski Within Your Ability
If you are new to skiing, it is highly recommended that you start by taking lessons. This will not only teach you the basics, it will also inform you of proper slope and lift etiquette. There are few things more dangerous on a ski slope than an out-of-control skier.
If you already know how to ski, be sure to stick to the trails that match your level of expertise. If you find yourself on a path that is too difficult, stay along the tree line so that you are not putting anyone else in danger if you wipe out.
Maintain Physical Fitness and Awareness
Skiing is among the most physically demanding sports, especially for recreational athletes. It is also an excellent cardiovascular workout. With these factors in mind, it is essential to be in good physical shape. To prepare for ski season, include appropriate exercises in your workout routine before hitting the slopes. Core strength training is especially helpful.
Before heading for the lift, warm up your muscles by doing a few cardio exercises such as brisk walking or active yoga. Start your day with an easy ski run to help warm up.
Hydration is also essential. Make sure you drink plenty of water or electrolytes before and throughout the day during your time on the slopes.
Listening to your body is equally as important. Even elite athletes get tired and experience muscle fatigue. If you are tired or feeling pain, stop skiing.
Practice Safety and Etiquette
Beginning with the lift line, be polite by not cutting in front of anyone. Know how to ride the lift. And, always place the safety bar in the down position while riding it.
Stick to properly marked and open trails and keep your eyes on the terrain to avoid ice and rocks. Remain mindful that you are sharing the path with other skiers and don't stop in the middle of the hill.
Always check conditions before clipping into your skis. Things to look for include slope surface conditions, avalanche activity in the area, potential storms, and the air temperature at the top of the mountain.
Be aware of changes in elevation. Altitude sickness can cause dizziness and disorientation. If possible, arrive at your skiing destination a day ahead of time so that you can become acclimated to the altitude.
Lastly, don't head back out to the slopes if you had a few too many alcoholic beverages during your lunch break. Listen to your peers! If they suggest you take the rest of the day off, head to the ski lodge and grab some coffee or hot chocolate.
Enjoy The Ride
Remember and this bears repeating: be sure to tune your equipment and dress appropriately; stick to the trails that are within your level of experience; maintain good physical condition and hydrate; know the conditions and weather before putting on your skis or snowboard; and be polite, thoughtful, and aware.  For those parents out there who are taking their kids out to the slopes for the first time, please keep an eye on your children at all times or place them in ski school.
As an avid skier, I can tell you firsthand that skiing is an exciting, total-body sport that can be a great deal of fun when taking proper precautions that will help you stay on the slopes and stay out of the ER because of an injury.
Sources:
https://orthoinfo.aaos.org/en/staying-healthy/skiing-injury-prevention
https://www.stopsportsinjuries.org/STOP/STOP/Prevent_Injuries/Skiing_and_Snowboarding_Injury_Prevention.aspx
https://www.skimag.com/ski-performance/three-common-ski-injuries-and-how-to-prevent-them
https://www.ncbi.nlm.nih.gov/pubmed/20463501
https://www.hss.edu/playbook/tips-to-avoid-holiday-sports-injuries/
https://orthoinfo.aaos.org/en/staying-healthy/about-holiday-safety/