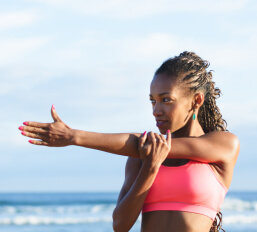 Dr. Lee suggests shoulder mobility exercises matter more than most people realize.
Article Link: Experts Explain Why To Include Shoulder Mobility Exercises In Warm-ups. Nike.com
"The shoulder is the most mobile major joint in the body and, therefore, the body really relies on it to function optimally," said Brian Lee, M.D., elbow and shoulder specialist at Cedars-Sinai Kerlan-Jobe Institute in Los Angeles, Calif., and orthopedic consultant for the PGA Tour.   Read more.