February 8, 2023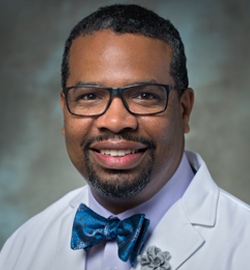 Dr. Williams weighs in on playing with and managing pain at professional level.
Article Link:  Rams legend Jack Youngblood could feel Patrick Mahomes' pain – Los Angeles Times (latimes.com)
Understanding pain management first requires understanding pain, something Dr. Vernon Williams does better than most as the founding director of the Center for Sports Neurology and Pain Medicine at Cedars-Sinai Kerlan-Jobe Institute.
He explained that areas of injury transmit electrical signals via the nervous system through the spinal cord to the brain. It is the brain that then produces pain, typically as a defense response to protect the body.
But the amount of pain experienced can be influenced by much more than just the player's injury. There is everything that's happening around the player to consider as well.
"Different activities require different muscles and put different loads into different joints," he explained. "So, for someone who's going from, for example, cycling into running, I think it's really important to make sure that they're focusing on hip adductor strengthening, quad strengthening, things that will equip them to tolerate a higher load."