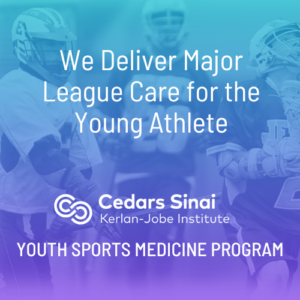 World Renowned Sports Medicine Institute Expands Services for Young Athlete Community
Program launched to meet the increasing demand in specialized care for sports-related injuries in pediatric patients.
LOS ANGELES – Cedars-Sinai Kerlan-Jobe Institute, a world leader in the diagnosis, treatment and prevention of sports-related injuries and illnesses, has announced the formation of its new Youth Sports Medicine Program.
The program features Cedars-Sinai Kerlan-Jobe Institute (Kerlan-Jobe) board-certified physicians, dually trained in sports medicine and pediatrics, and a network of specialists and physical therapists, working with young athletes of all ages to minimize the risk of injury and time away from sports. Patients will have access to comprehensive diagnostics, prevention, physical therapy, pain management and when necessary, the latest surgical techniques.
Key program features and services will include:
Fracture management with same-day X-rays, splinting and casting for broken bones
Diagnostic services including X-ray, MRI, CT scan, musculoskeletal ultrasound
Fellowship-trained primary care sports medicine experts in concussion intervention, diagnosis, baseline cognitive testing, guidance, and return-to-play evaluations
Sports medicine physical therapy services both onsite and through Cedars-Sinai network partners
Seven accessible clinic locations in the greater Los Angeles and Orange County region
Immediate care (walk-in) service in select locations
Motion and Sports Performance Laboratory equipped with dynamic motion-capture technology
Sports Neurology consultations and cognitive performance assessment and optimization
Comprehensive care for female athletes
Consultation in pain management and treatments
Young athlete clinical trials to understand different treatments for youth sports injuries
Collaboration with Cedars-Sinai Guerin Children's specialists outside of sports medicine to provide comprehensive support, including spine and back injury treatments
"As pioneering researchers for sports injury prevention, surgery and rehabilitation, we are excited to work closely with our served communities by providing clinically-proven injury prevention and sports medicine education and strategies needed to help young athletes, parents and coaches implement and maintain safe, healthy routines," said Carlos Uquillas, M.D., pediatric sports medicine specialist and pediatric orthopedic surgeon at Kerlan-Jobe in Los Angeles.
Kerlan-Jobe physician leaders said they look forward to bringing their decades of experience to enhance the health of young athletes.
"With the increasing numbers of kids and teens participating in year-round, organized sports and activities, sport-related injuries are on the rise," said Bert Mandelbaum, M.D., sports medicine specialist, orthopedic surgeon and co-chair of Medical Affairs at Kerlan-Jobe. "We are excited to partner with parents, schools and coaches to provide a comprehensive Youth Sports Medicine Program designed to deliver major league care for our young athletes so they can remain on the field and off the sidelines."
For more information about the Cedars-Sinai Kerlan-Jobe Institute, please visit www.kerlanjobe.org.
Cedars-Sinai Kerlan-Jobe Institute
Cedars-Sinai Kerlan-Jobe Institute is a world leader in the diagnosis, treatment and prevention of sports-related injuries and illnesses. As the sports division of the No. 3 nationally ranked Cedars-Sinai Department of Orthopaedics, institute physicians provide comprehensive care for a broad range of adult and pediatric orthopaedic conditions. Patients benefit from world-renowned experts in multi-specialty orthopaedics and the physicians who take care of professional athletes are the same ones who treat you. For more information, or make an appointment, visit www.kerlanjobe.org.
Contact:
Trace Longo
Longo Communications for Cedars-Sinai Kerlan-Jobe Institute
714-600-9811
# # #